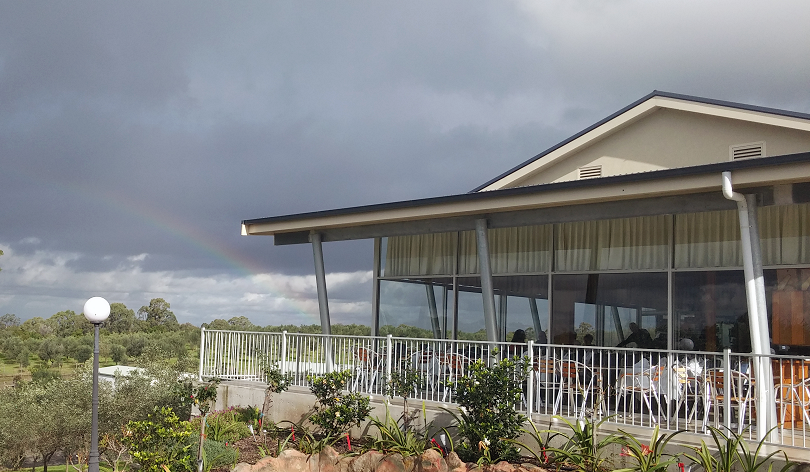 Ambrosia! (NSW – Silverdale)
Earlier in the year my Dad celebrated his 70th birthday. While I was there on the actual day, I wasn't able to attend the family get together he had to celebrate. Mum found a beautiful restaurant called Ambrosia on an Olive Farm in Silverdale & after eating there, raved on about it. They decided to take me to lunch whilst I was up visiting, and it didn't disappoint!
Of course, I had to have the Oysters as an Entree. Oysters are by far my favourite food, and if they weren't so expensive, I could have just sat and ate a few dozen of them!! So tasty! I do love plain oysters, but Kilpatrick is my favourite way to eat them. I mean, come on! Oysters & bacon!!
This was my Mums main meal of Scallops. I ate one and it was delicious. Well, apart from the fact it had coriander on it, and to me coriander tastes like soap.

This was my Dads, veal topped with prawns, scallops, muscles & a sauce that he said was delisious. What my Mum & Dad chose were both specials for that day. 
I had what was called 'Tornado Steak'. It was steak, wrapped in bacon, topped with lobster & bearnaise sauce. YUM! Apart from my steak being slightly more cooked then I asked for, it was delicious. I struggled to eat it all, but managed to eat everything bar the brussel sprouts. 
I had a hard time choosing a dessert as they had many things I liked to choose from, but after Dad told me about their banana splits, I decided I HAD to try one. I didn't manage to finish it all. But it was gooood.

The view of the olive farm from the restaurant was amazing, plus getting to see so many animals roam around was fascinating. They had deer, geese, emus, plus a spotted a dog and a cat! I'm sure there was plenty more animals to spot. This was only a week after the crazy storms Sydney had, and as you can see the weather was still abit grumpy.
Look at the rainbow though! You can see a rainbow in the header picture too! Sure looked stunning! (Spot the geese up the back right behind the shed!)
They had a huge pond and waterfall feature, plus look at the size of these koi! There were even more in the big pong area. Oh, and I had this divine cocktail that tasted AH-MAY-ZING!
ALSO: You may have noticed, I had a little trouble with the site recently, due to some old plugins. It should be all good by now. If you have any troubles with anything, let me know.
What's your all time fave food?