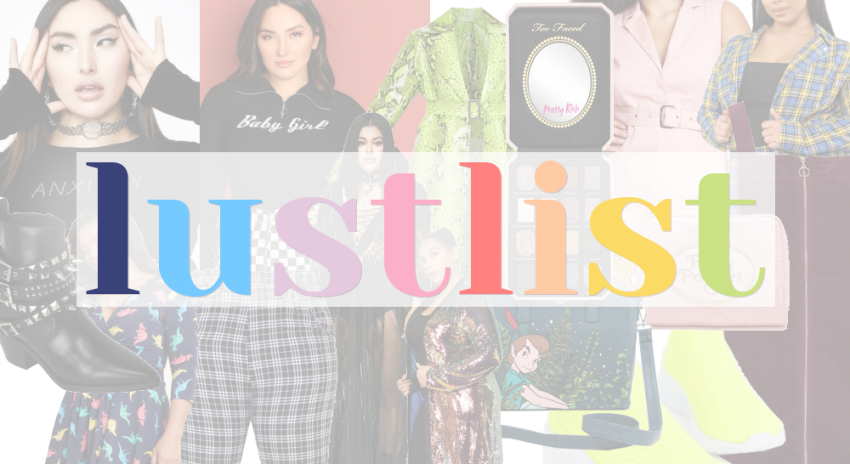 Heya! First wishlist of 2019! It's been a while! I can't believe I used to do these so often. Though I have been eyeing a few things recently, so I thought I'd share them with you!
Dollskill – Major Anxxxiety Rhinestone top – A$39.12 || This top is me. I mean, as someone who has a tachy heart just because of anxiety, I think I couldn't find a more perfect top.
Shein – Baby Girl Top – $18.95 || Love this, and I love the zip & o-ring feature. Very late 90s.
Pretty Little Thing – Neon Green Snake Print Trench – $132.00 || This is top of my wishlist and I just know it will sell out before I can afford it/ justify it to myself for buying it. It's just SO perfect. Like, I love it SO MUCH!
Too Faced via Mecca – Pretty Rich Diamond Light Palette – $71.00 || I tried this in store the other week and it's SO pretty, the different textures are so nice and the colours so pretty!
Fashion Nova – Making My Way Plaid Set – $79.99us || This is just super cute and gives me Clueless vibes.
Killstar via Beserk – Callista Boot – $186.95 || Hello dream shoes, please come to me.
Pretty Little Thing – Black Check Buckle Skinny Pants – $68 || Loving all the check/tartan print things.
Dollskill – Pitch Dark Modern Love Maxi – $121 || So prettttty!
Loungefly via Hot Topic – Peter Pan bag – $49.90 || Peter Pan is my favourite Disney movie (I love PP in general) and this bag has me looking like the heart-eyed emoji!
Boohoo – O Ring Zip Cord Pinafore Dress – $57 || Pinafores are my jam! I love them so much, I want to buy every one I come across.
Modcloth – Surplice Knit A-Line Dress in Navy Dinos – $69 || Dinosaurs forever <3
Fashion Nova – Getting The Party Started Duster – $59.99us || As you know, I love anything that sparkles. This sparkles A LOT!
ASOS – Display sock sneakers in neon yellow – $56.00 || I'm going through a sneaker stage, they are just so COMFY! I am also loving the sock sneaker trend and well, I've had a weakness for yellow shoes since high school. Neon yellow sneakers just look so fun!
Atmos&Here via The Iconic – Belted Lapel Shirt Dress – $89.95 || I've been on an Atmos&Here kick lately, most of the new clothes i've bought recently has been from them. I just love the colour and style of this dress.
Hot Topic – Polly Pocket Wallet – $18.90 ||Ahh, HT, I could spend so much money at HT but postage, gees, postage to Australia SUCKS! So this is def a 'WISH' item, cause it won't be happening. But how CUTE IS THIS!? I loved Polly Pocket so much as a child!
What's on your list?