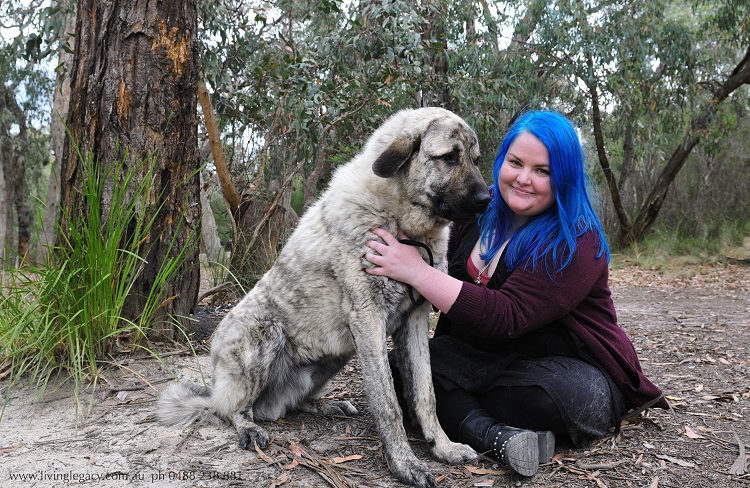 For the love of big dogs.
It's funny, all my life, my own 'personal' dogs have been small dogs. The dog-love-of-my-life Frodo was a Dachshund x Mini Foxie and before him was a Min-Pin and a range of Aussie Silky Terriers. So, small. The main interaction in my life, with a big dog, was with my Mums dog King. For some reason, we went to the RSPCA and my Mum fell in love with this great big black dog & my parents decided to adopt him. Sadly, he hadn't been desexed, probably because they didn't think he'd get adopted. When we went to pick him up, he sat on Mums lap on the back seat all the way home.
LEFT: My Prince standing on his back legs, while King stood normally.
King was the biggest softy. When we introduced him to my dog Prince for the first time, he was scared, and hid behind Mum. Being a Border Collie x Newfoundland, he loved the water, which ended in my parents needing to totally overhaul the backyard and get a new pool after he broke the other one. He would stand up and put his paws on my shoulders and give me a hug. 10ish year old me struggled to walk him.
People have always been surprised that most of my life, my dream dogs have been St Bernards and Great Danes. The thing is, I love ALL dogs, and most of my life, small dogs have suited me. It wasn't until I was older, and I got Frodo, that I actually bonded hard with a dog, and shared my life with a dog. It wasn't something that I had to feed and lived outside, it was my best friend and companion.
Then I was introduced to the Anatolian Shepherd. I should say, whilst I do adore Bernards and Danes, they aren't a dog I think I'd ever own. Without getting into too much of a rant about how a lot of dogs have been bred for aesthetic  reasons (over the past hundreds of years) without care into the dogs actual health, big dogs = big health bills. Danes are lucky to make 8, Bernards 10. So while I fell in love reading about Anatolians, what they have been bred for (they are guardian dogs, different to "guard dogs") and learning about their temperament, the main thing is, they have been bred to be a good, sturdy, healthy dog. Sure, they can get 'big dog' problems, that all big dogs can get, and like humans, every dog is different, but they are dogs that CAN live a long and healthy life. (Sorry, still got a little ranty)
I've been lucky that there is such a loving and welcoming community of Anatolian (& Kangal) lovers in Melbourne, and that i've been able to attend events to get to know the breed. It was intimidating rocking up to the first event and being surround by these giants, but I am so glad I did, because spending time with the breed has made me fall even more in love with them. I don't know that without this chance, I'd have had the confidence to actually own a big dog, but now I understand more the handful I will one day hopefully take on.
I was lucky at the last event to show Takas Zazu, who I had babysat earlier in the year. I also had the pleasure of Jan from Living Legacy take the above images (bar the ones of King) for me. Images that I will forever cherish. You should check out her blog 'Still Buzzing' whilst you're at it!
The above photo is of the Judge from the day, Zazu and I. I totally forgot I had my glasses on, and yes, we one first prize. You can see previous posts about my Anatolian adventures here, here and here.
I guess this post doesn't really have too much to do about anything, apart from give me a chance to share my love of dogs, a particular breed and how heart broken I still am about not having a dog in my life.
What is your favourite dog related memory?