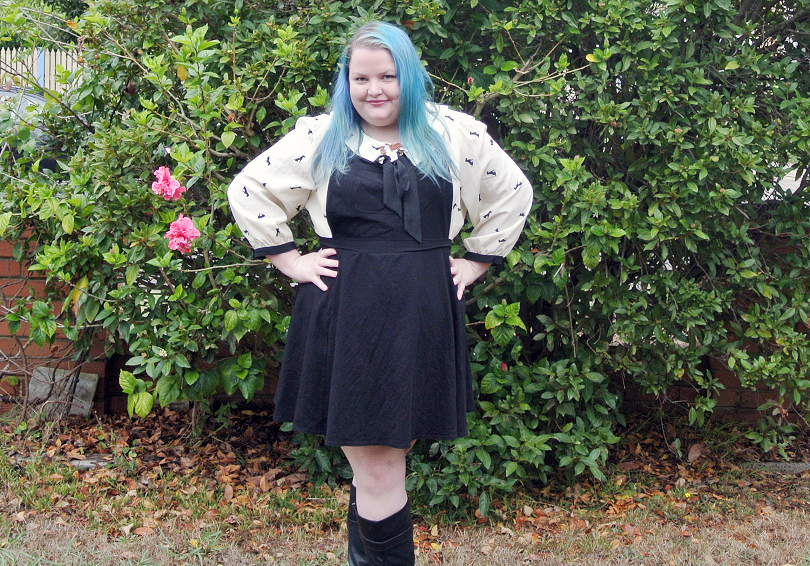 Outfit – Dogs are the best people.
I really do seem to be liking the monochrome at the moment, don't I? Seeing as my last outfit was cat themed, I decided to pull out a few of my dog themed items. I am more of a dog person than a cat person, so I couldn't let the cats get all the glory!
Sadly the top and pinafore are ooooold ASOS Curve stock, but they do have similar pinafores in stock. I don't wear shirts often, but when this originally came out I knew the mix of dog print, Peter Pan collar and pussy bow was a combo I'd forever love.
I also want to say, i'm pretty impressed with this hair colour. Sure, it's in desperate need for my roots to be bleached and could use a re-dye, but the last time I dyed my hair was Christmas Eve. Just over a month ago! It was the first time I've used Brite Organix, but i'm liking the way it's faded and it's lasted a lot longer then I expected.
I don't often show my bags in Outfit posts because I honestly forget, but I made sure to show you this time because it's too cute not to! This was a surprise find at Kmart (where I could honestly spend $98274 atm!). It fits my phone, but not my main wallet, so I picked up one of those phone/wallet hybrid things. It also means I don't take everything + the kitchen sink with me when I go out. I added my Erstwilder brooch to the bag, and this bag pom, which I also have in pink & grey!
Oh how I love Erstwilder brooches! They are releasing a Dinosaur range soon and I NEED them all! This one was a gift from my BFF Lou, and reminds me of my parents dogs. They have 3 Cavalier King Charlies at the moment (see!) & has had 2 Blenheim Cavis previously.
Are you a dog or a cat person?